February 3, 2023
This week Compass released its annual Ultra-Luxury Report with notable sales, market data, and valuable insights from Compass real estate professionals in all the major luxury markets across the country.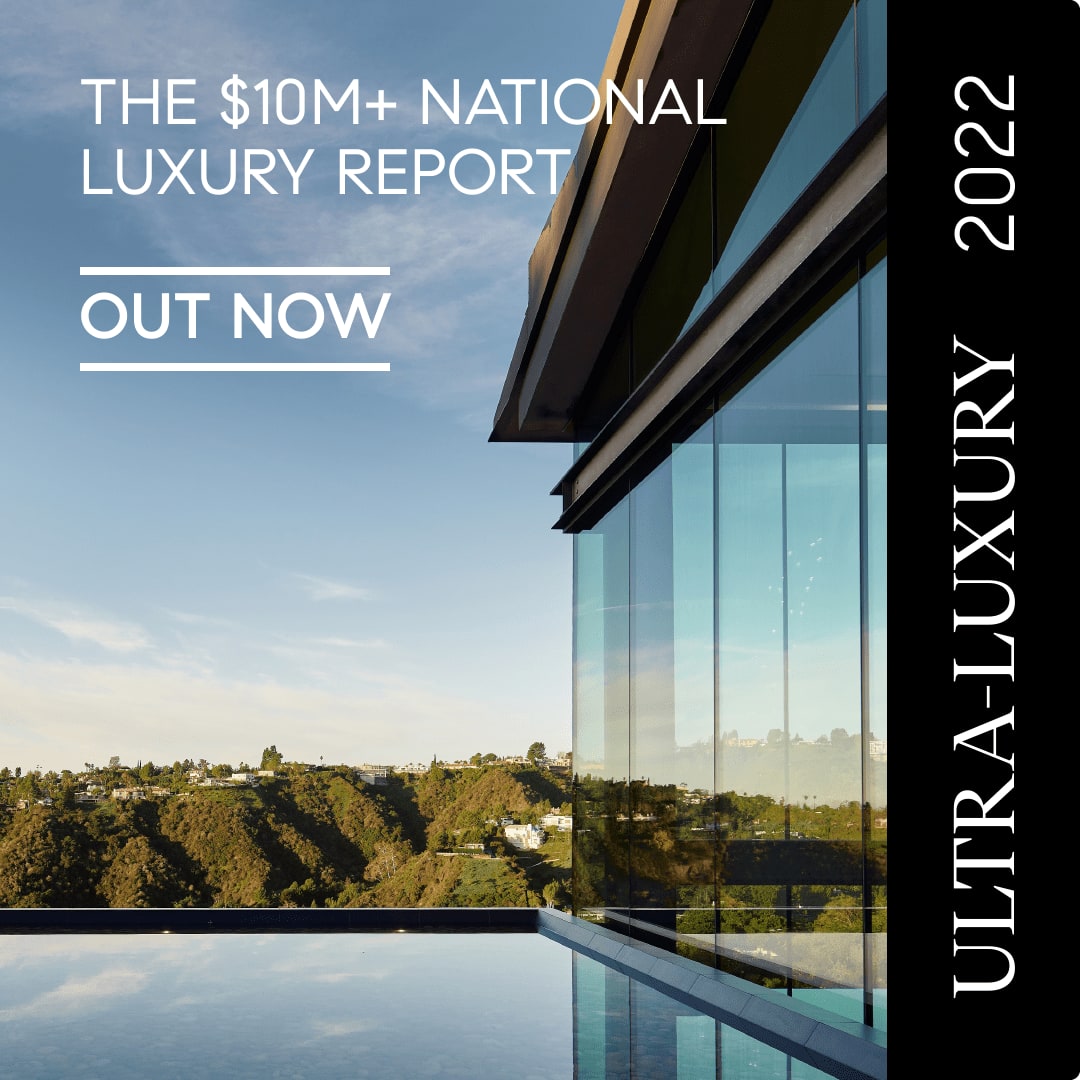 Yours truly was asked to provide feedback on the Maui ultra-luxury market. Here's a summary:
Luxury real estate in Maui continues to be a combination of exquisite natural beauty, exclusivity, and our laid-back lifestyle.
2022 was another big year with the second highest number of $10 million-plus sales ever. 2023 started with a record-breaking $32 million-plus oceanfront sale listed by a Compass agent - in escrow within a month and sold close to asking, indicating that there is still strong demand for quality.
Buyers are perhaps more cautious now than the past two years with many taking a longer-term view and opting to build on our dwindling supply of usable land.
You can read the full Compass Ultra-Luxury 2022 Report linked here. Our Hawaii market stats are pages 64-65.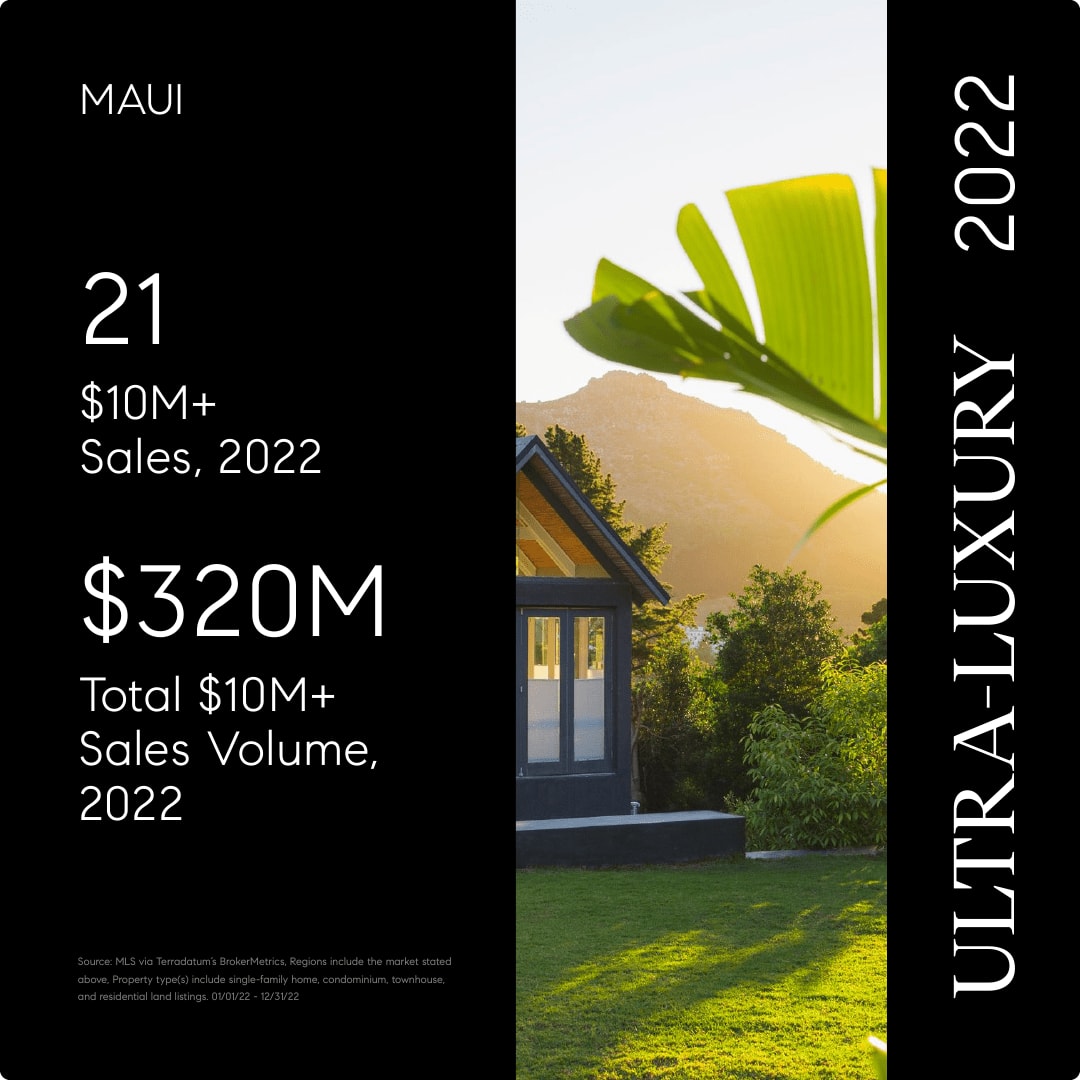 Now let's dig a little deeper into the history and trends of Maui ultra-luxury real estate, defined as residential properties that have sold over $10 million, a price bracket reserved for only the finest of homes. Historically fewer than five properties each year sold for more than $10 million - most years it was just one or two sales and this was BIG news. Starting in 2017 numbers began to tick up with five to ten ultra-luxury sales each year through year-end 2020. 2021 was an outright explosion with 32 recorded sales over $10 million for a total transaction volume over $480 million. In 2022 the number of transaction sales dropped by about a third and total transaction volume decreased by about twenty percent, coinciding with inventory dropping by a third and bottoming out at the end of Q1. This lack of inventory and continued demand actually caused prices to increase with the median increasing from $12.9 million in December 2021 to $15 million to close out December 2022.*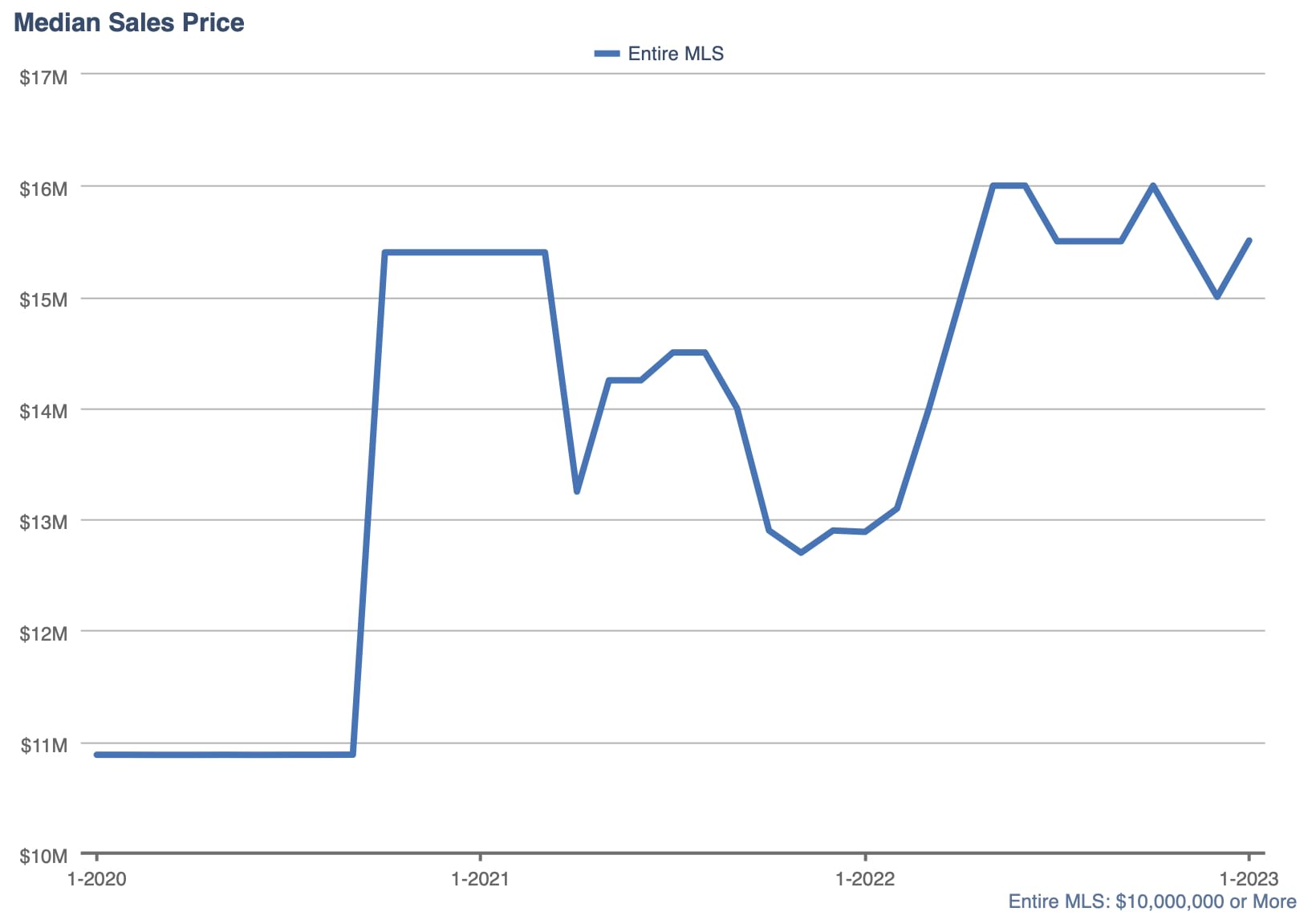 As potential Buyers try to "time the market" hoping for steep pricing discounts, well, I hate to break this news, but our ultra-luxury market seems pretty well-insulated. For the past three and a half years, $10+ million properties on Maui have been selling consistently within five percent of list price. Trying to wait out a Seller is not proving to be a successful discounting strategy either - ultra-luxury properties are actually spending LESS time on the market now than in the buying frenzy of 2021. Our $3 million to $10 million price bracket (a much larger data set) has an even tighter list-to-sale price margin - it's within two percent.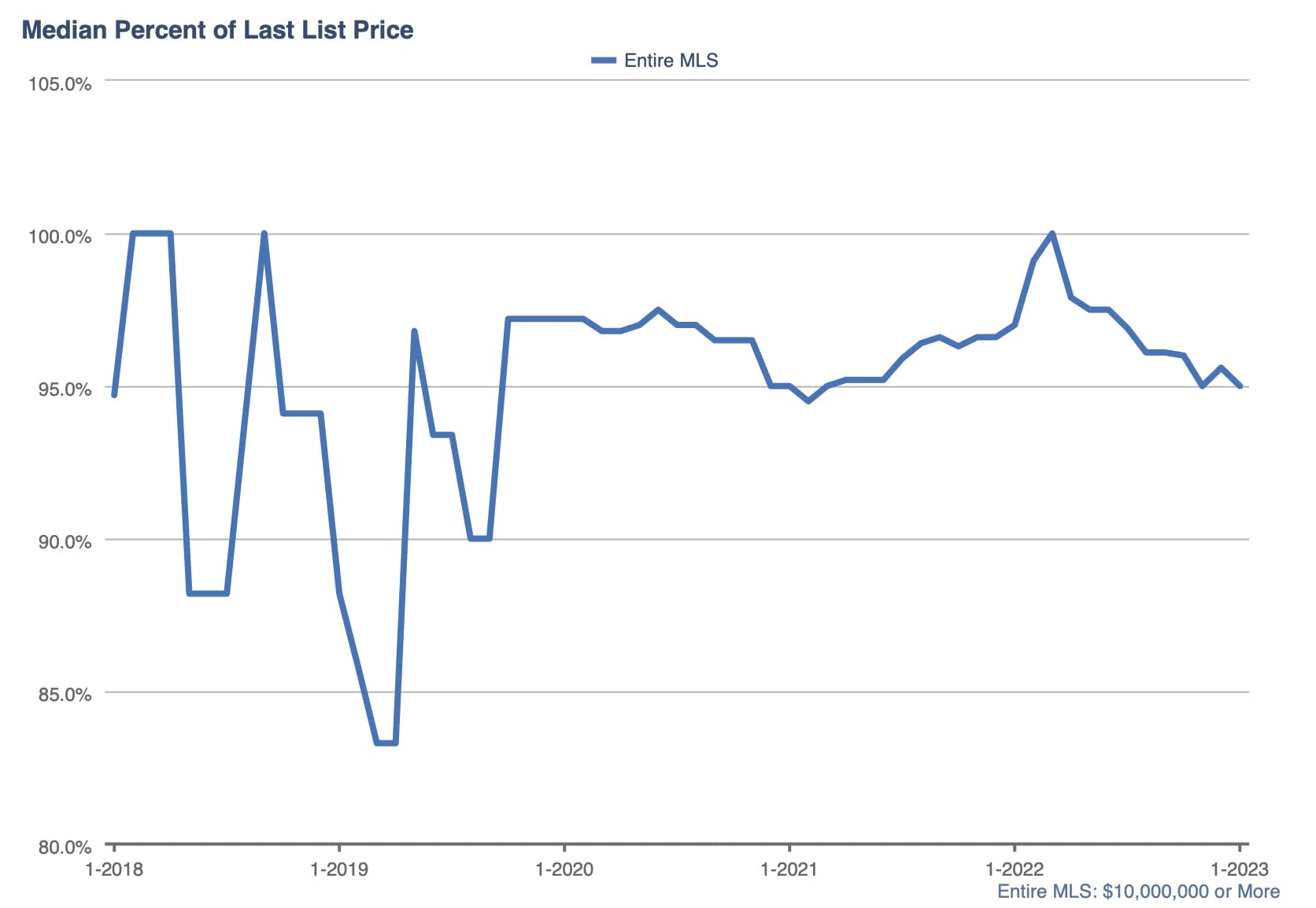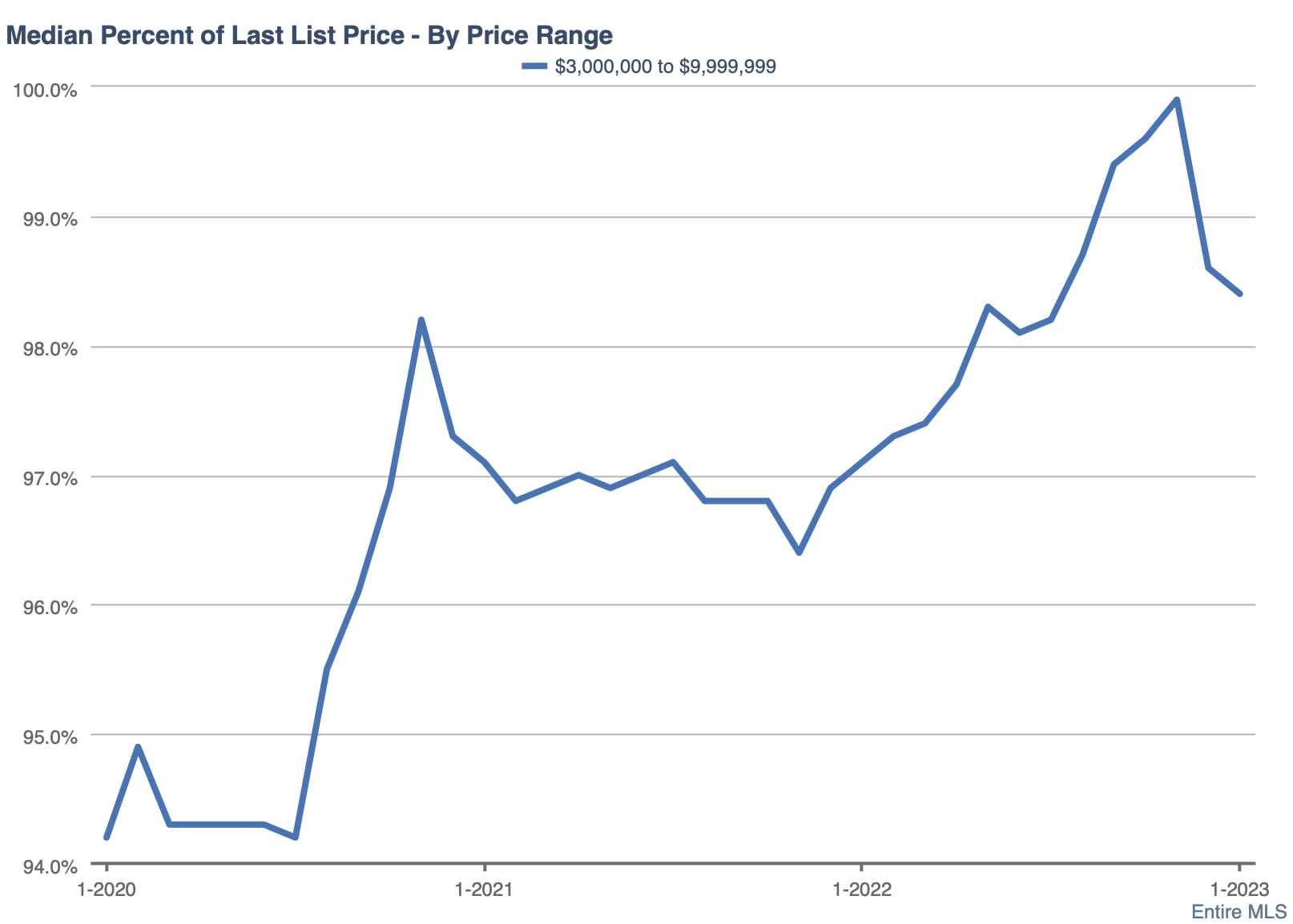 So where exactly on Maui are these $10 million-plus sales occurring? Over two-thirds of the ultra-luxury properties sold on Maui are all located in the Wailea-Makena resort areas. With growing amenities from Discovery's Makena Golf & Beach Club and additional luxury residence, resort, and retail development, this South Maui enclave attracts residents seeking the delicate balance of privacy, convenience, and raw natural beauty.
Properties On the Market Now in Wailea-Makena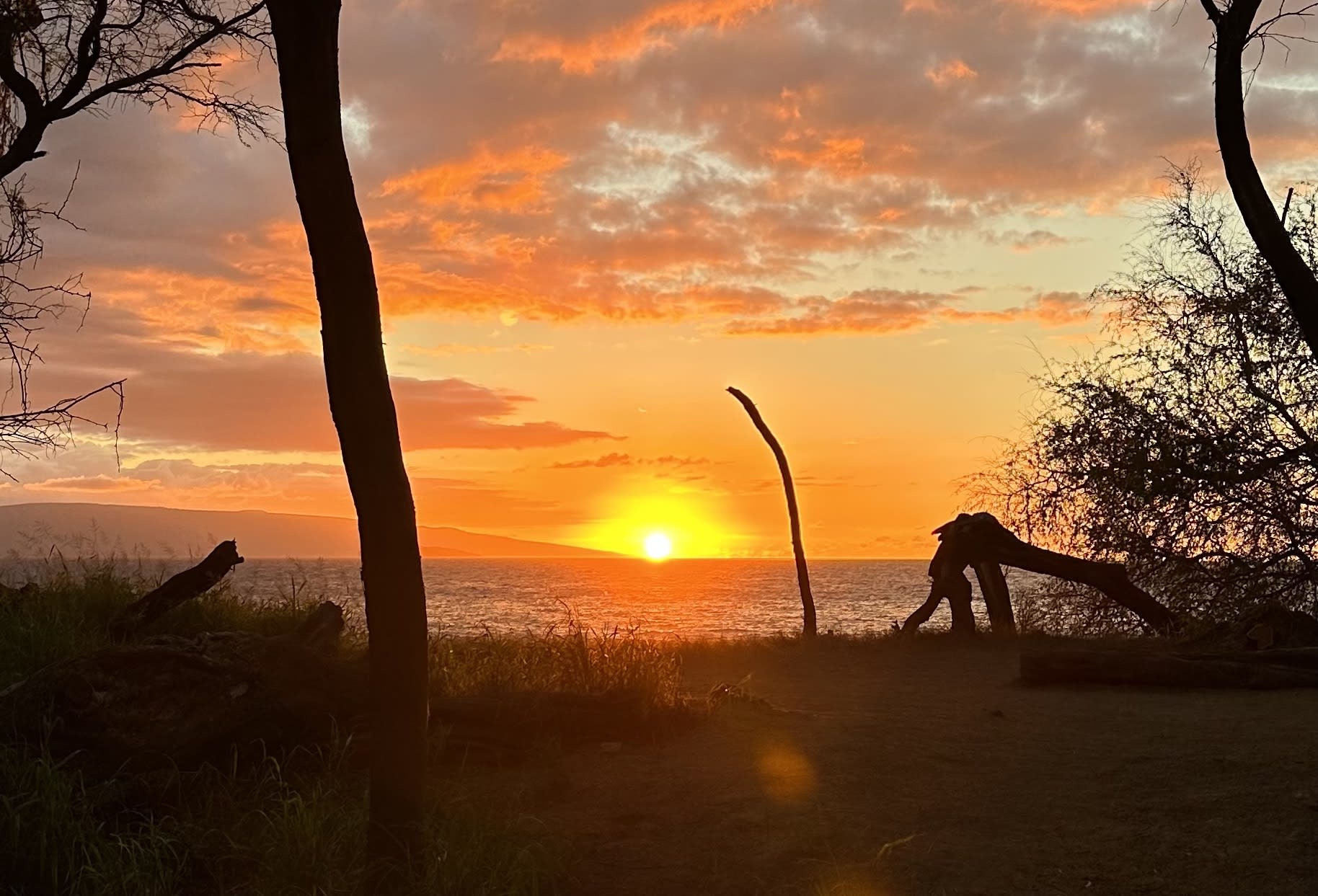 For more information about ultra-luxury real estate and Maui's other unique real estate markets, please don't hesitate to reach out to me anytime. Aloha from Maui!


*Maui real estate market statistics and sales data courtesy of the Realtors Association of Maui.